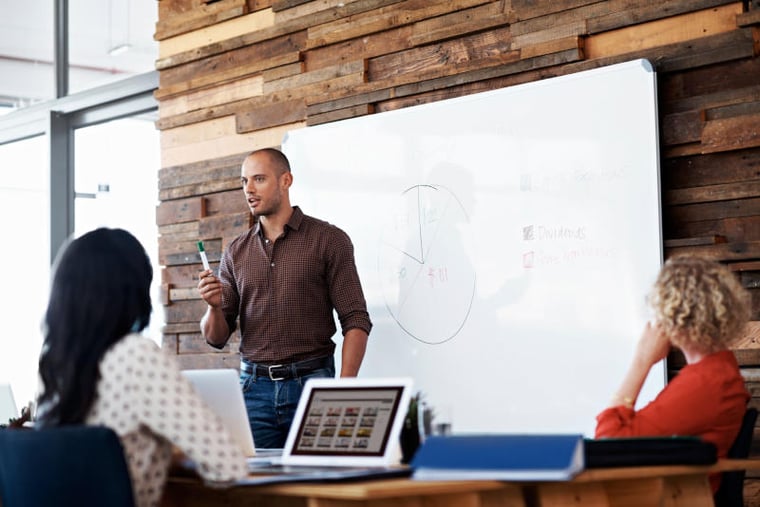 B2B Content Marketing Trends
Content marketing is arguably one of the most important marketing strategies available to businesses today. It allows you to connect and engage with customers and prospects. Engaging content will provide your business with the fuel to demonstrate that you understand the issues and concerns your customers are experiencing. Ultimately you will be seen as a thought-leader and solution-provider.
Because tech products and services are sometimes complex and intricate, you have a unique opportunity to offer content that will educate and answer questions. Questions that span from the general (ex. what is cloud storage?) to more detailed and technical (ex. how does desktop virtualization benefit my business?). Your prospects are searching for answers to questions and concerns well before they engage a supplier. In fact:
By developing an effective content strategy, your technology company will be available to help and guide prospects in their decision-making.
Whether your company is starting to develop a content strategy, or you've had one in place for several years, it's always a good idea to take a step back and analyze your strategy.
The Top 5 Trends in B2B Content Marketing for Technology Companies
At their core, effective B2B content marketing trends for technology companies are the same as for all B2B companies. These include:
Having a good understanding of your target market and where they are in the buyer's journey.
Identifying the best content formats for your customer.
Documenting your content strategy.
Producing and promoting your content.
However, taking a closer look at research, specific to your marketing goals and challenges for technology companies, offers insight and uncovers opportunities. A Spiceworks report identified the top 5 trends in B2B content marketing. These trends are very relevant to technology companies - close to 50% of the report respondents were from high tech and software companies. According to this report, the top 5 trends include:
1. Lead Generation
The number one goal for technology companies is lead generation, followed by thought leadership and market education.
In successful lead generation campaigns, customers exchange their contact information for relevant content. Customers and prospects must find value in the content you are offering, so make sure it addresses their challenges and concerns and offers a tangible benefit to the recipient. Some examples of content that can be used for lead generation are webinars, checklists, customer interviews, and infographics.
2. Documented Content Strategies
Documented content strategies for technology companies are much more likely to be effective than undocumented strategies. And yet, only 30% of companies have a formally documented content strategy!
Document your content strategy by creating a spreadsheet with personas, and content types for each stage of the buyer's journey. Next create a calendar or spreadsheet to track deadlines and to determine which projects and tasks are due when and by whom.
3. Time and Resources
The biggest content challenge facing technology companies is finding enough time and resources to develop content. The second biggest challenge is producing enough content. The third challenge is developing truly engaging content that supports the role of ongoing marketing programs.
This is an area where technology marketers need to get creative and focused. Ideally, your company will dedicate a resource or team to content creation, or outsource this role to a third party. Begin by taking an inventory of your content to know what content exists. Then identify gaps that need to be filled based on your content objectives and goals. Consider content creation ideas such as repurposing existing content, interviewing customers or company executives, and creating customer success stories. Leverage the knowledge of others in your company to come up with content ideas or even to create content. For example, ask your customer service team what the most frequent customer questions are and create a blog post with this information.
4. ROI
ROI remains difficult to measure. Only a minority of respondents consider themselves at least somewhat successful at tracking ROI.
Measuring ROI takes time and a commitment from your company. Ideally you want to measure the effectiveness of your content on leads, engagement and sales. In a B2B Marketing Insider article, three components of content marketing ROI are identified: cost, utilization and performance. To begin measuring your ROI, your company should truly determine the cost to create content. Next, perform an audit of content to find out what percentage of your content actually gets used. Finally, define the business value of the outcome of the content you create. The article goes on to show you how to build a business case to help you reach and engage with customers at every stage of the buyers' journey.
5. LinkedIn
LinkedIn tops the list of the most effective social media platforms for distributing content. The runners-up are Twitter (moving up one rank compared to last year) and YouTube (moving down from second to third place).
Understanding where your company's personas spend time online is key to finding the most effective social channels for your content. It makes sense that your customers and prospects frequent LinkedIn for its communities of like-minded business professionals. But don't stop with just posting to your company pages. As this Social News Daily article states, posting in discussion groups and on personal profiles can also generate leads and conversions.
Content provides a way for your company to attract prospects and answer questions-of-importance to their business. In the end, you want your content to help you find new customers and engage with existing customers. Once you create valuable targeted content, ensure it's helping your technology company achieve objectives by tracking performance and results.
GamePlan Marketing is a Full-Service Creative & Digital Agency located in the Oakville, Greater Toronto Area in Canada. We Specialize in Digital Marketing for B2B Technology Companies.
Interested in developing a content strategy for your company?