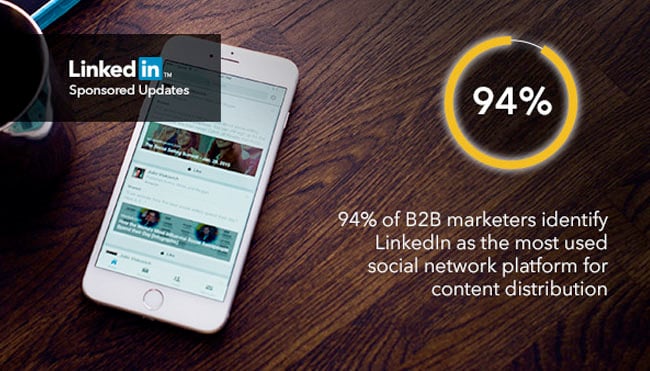 Advertising on LinkedIn can be a powerful way to spearhead your IT marketing plan, but it can be a difficult platform to tackle. Learn what you need to know to get started with LinkedIn's marketing products, including the most effective ad targeting parameters, the different types of LinkedIn advertising options available (Sponsored Updates, Text Ads, Sponsored InMail, etc), best practices for A/B testing, and recommendations for driving event registrations.
*Quick Tip: LinkedIn operates the world's largest professional network on the Internet with more than 400 million members, and new contacts signing up at a rate of 2 per second. Not only are many LinkedIn members actively looking for products, solutions and services, but the network is also business-oriented which makes the platform ideal for reaching your potential customers.
To get your LinkedIn campaign up and running, get started with the following 5 crucial steps:
1. Run a Social Advertising Assessment
Most forms of LinkedIn Advertising are best used as marketing tactics to produce top-of-funnel leads. Some companies need this type of support, and some companies do not. Perform a LinkedIn Advertising Assessment to determine if running a LinkedIn ad campaign is the best marketing tactic for your company:
a) Establish Your Intent:
What are your business and campaign goals?
What will you offer up to the people who see your ad? Do you want to promote a white paper you have written? Do you want to offer qualified candidates a Technology Assessment?
Does your company really need to generate new top-of-funnel leads, or would you benefit more from a campaign aimed at nurturing existing prospects in your sales pipeline?
b) Determine Your Audience
What is the size of your potential audience / how many LinkedIn members fall under your target audience parameters?
Are there enough members on the platform in your target audience to make advertising worthwhile?
c) Calculate Expected Cost and Metrics

What is the Cost per click?
How many impressions will your ad get?
How many new Followers, Likes and Shares will your company gain?
Don't want to be bothered with all of this? Contact us to perform your LinkedIn Assessment
*Quick Tip:The LinkedIn platform provides access to a large network of decision makers and influencers in the technology space. Member data can be used to target and personalize your marketing and sales efforts by providing you with valuable customer details to leverage.
2. Specify your Target Audience
Since LinkedIn's membership is so diverse (members come from an endless range of industries, job titles and levels of seniority, from over 200 countries and territories), advertising on LinkedIn can be an effective way to reach virtually every business persona. What's more, LinkedIn is one of the best social networks to advertise to B2B audiences, since members are already in a professional, business mind-frame when using the site (as opposed to more casual and personal networking platforms such as Facebook, Twitter and Instagram).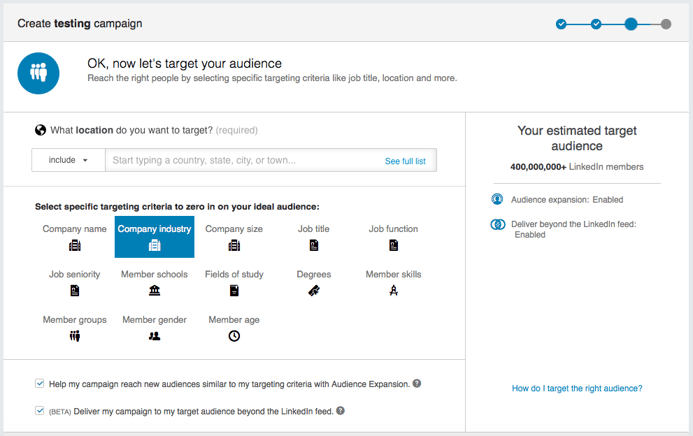 LinkedIn ads have an exceptionally good targeting system, which allows you to segment audiences for your LinkedIn campaigns based on:
Job title and function
Industry
Company size (one of my favorites, and often this segmentation option is not offered by other ad targeting systems)
Seniority
Geography
Age and gender
Company name
Fields of study
Degrees obtained
LinkedIn Member Groups
LinkedIn skills
Although it's fantastic to have such a big selection of targeting options, the more targeting parameters you include, the more limited your audience will be. Prevent your audience size, aka "universe", from becoming too small and rendering your ads ineffective.
When setting your targeting parameters, don't be so selective that you remove possible influencers with lower seniority job titles, for the sake of securing a high-level decision maker. For example, let's say your ideal persona is a Director or VP of IT, you may still opt to include System Administrators and IT Managers in your target audience, as influencers of your ideal target. Remember, the "influencers" are usually the people downloading white papers, watching videos and conducting research for the company's potential upcoming IT projects.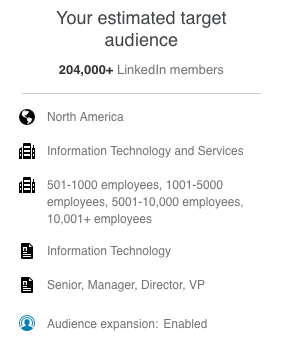 *Quick Tip: LinkedIn indicates the best performing campaigns have an audience size of at least 300,000 contacts for Sponsored Updates. In our experience, we have been hard pressed to reach an audience size this large while still staying focused on our target audience. When pressed with this same challenge, our recommendation is not to choose such a broad audience that you end up paying for clicks from people who you have zero interest in pursuing.
3. Choose an advertising type
The most common types of paid LinkedIn advertising are Sponsored Updates and Text Ads. Sponsored InMail, Display Ads and Lead Accelerator are available to enterprises with larger advertising budgets directly through the LinkedIn team. We'll take a look at a few of these options, along with their advantages and disadvantages, to gain a better understanding of which options best suit your timeframe, goals, and budget:
LinkedIn Sponsored Updates

What are they/how do they work?
Whenever a LinkedIn member logs in to their account, the first page they see is the LinkedIn feed. After navigating away from this page, they can always go back by hitting "home" on their navigation bar. This feed/home page shows a selection of content posted publicly from their connections, or from companies they follow.
Therefore, when you post something to your LinkedIn company page, your post may show up on some of your followers' feeds. However, if you only have 100 company followers, then only those 100 people have the chance to see your post on their feed. The only other people that might see your post, are people that search for and visit your company page. As such, posting to your company page can be a great way to nurture current followers and customers, but not a very good tactic to attract new prospects.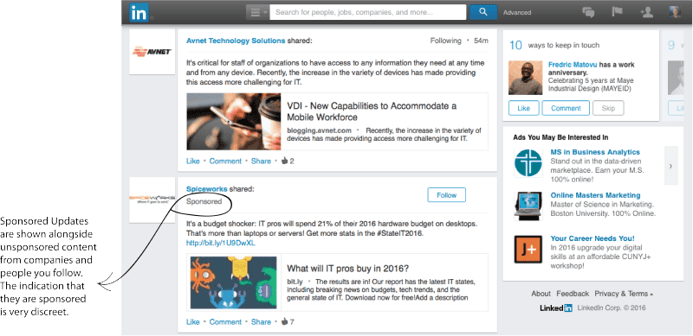 Sponsored Updates give your company posts a greater audience reach on LinkedIn. They allow you to create a post and share it on your company page while also sharing it with a targeted audience of your choosing. Even if your target audience do not follow your company page, the post will show up on their feed/home page, with a small indication that it is a paid advertisement: the word "sponsored" shows up next to the company profile picture. Unlike posting to the company page, Sponsored Updates can be a great tactic for attracting new prospects.
Advantages
Your company posts blend in to members' feeds discreetly, preventing banner blindness while psychologically endorsing instant credibility/trust when seen alongside posts from people and companies they follow
Set your own budget, manage the campaign in a self-serve setting, and choose from cost-per-click or cost-per-impression options
Test your messaging with different content and audiences, without posting to your LinkedIn company page
Kill two birds with one stone: post to your company page, AND post on your prospects' feed/home page
Disadvantages
Typically quite expensive for PPC advertising, with prices even soaring up to $25/click for C-Suite technology audiences (they have the power to deliver quality leads)
*Quick Tip: For more info, check out LinkedIn's downloadable marketing solutions PDF for Sponsored Updates
LinkedIn Text Ads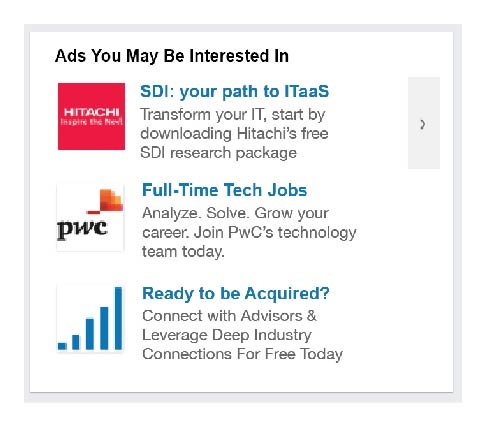 What are they/how do they work?
For members on laptops and computers, Text Ads appear on the right sidebar in a box titled "Ads You May Be Interested In". For mobile viewers, the ads appear in banner form.
Advantages
Least expensive way to advertise on LinkedIn
Set your own budget, manage the campaign in a self-serve setting, and choose from cost-per-click or cost-per-impression options
Disadvantages
Very limited space for imagery and copy (literally, the image size is only 50 x 50 pixels, which is just over 1cm x 1cm)! Being concise is essential.
In our experience, text ads appear to be good for producing impressions, but less effective for targeted lead generation
LinkedIn Sponsored InMail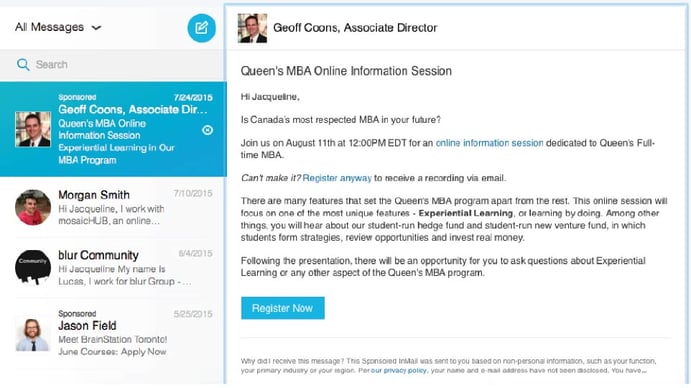 What are they/how do they work?
All LinkedIn members have an email inbox section on their account where they can send and receive one-to-one messages with other LinkedIn members, marketers and agencies. These messages are similar to emails (as opposed to chat messaging), and often members receive them instantly on their phones, or redirect them to their usual email inbox.
Advantages
Brands can target specific audiences with tailored, relevant content delivered directly to members' LinkedIn inboxes
Great for sending personalized invites to events and conferences
Members receive just one Sponsored InMail every 60 days, preventing other advertisers from contacting them within that timeframe to reduce marketing saturation
Disadvantages
Sponsored InMail campaigns are only available to companies with larger budgets (In 2015, the minimum marketing spend was 10k for a 3 month campaign)
*Quick Tip: For more info, check out LinkedIn's downloadable marketing solutions PDF for Sponsored InMails
4. Perform A/B Testing with your Sponsored Updates and Text Ads
LinkedIn offers the ability to launch multivariate tests concurrently for Sponsored Updates. Start by creating multiple campaigns with identical copy and imagery and for the same persona, but set to slightly different target parameters. For example, if you're trying to reach Marketing Managers, create two different campaigns: the first would target various Marketing Manager job titles and the second would target the job function "Marketing" and the seniority "Manager."
As LinkedIn themselves recommend, "Creating multiple campaigns that target the same persona helps you cast a much wider net, which improves reach and helps assure you're not missing out on valuable opportunities. As both campaigns run, you can compare performance and make the necessary adjustments. Do this for all the personas you'd like to engage."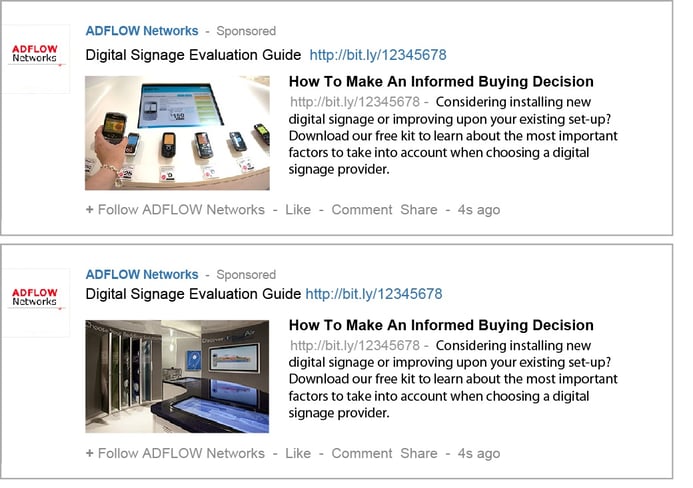 Once you determine which target parameters produce the best results for your persona based on click through rates and engagement levels, start testing your ad copy and imagery. By using multivariate testing, you are able to quickly determine the most engaging content for your audience.
*Quick Tip: When bidding, check the results daily. LinkedIn allows you alternate ads quickly when necessary, but only if your ad is pre-approved. For example, if your ad analytics suddenly plunge and you want to swap out the creative quickly but do not have any other ads approved yet, you will have to wait out the 24hr approval period. Be prepared for this situation by pre-approving a number of ad variations in advance.
5. Use LinkedIn to drive event registrations
Event marketing has its own set of best practices. Here are a few good tips for advertising your event with LinkedIn:
If your Sponsored Update or Text Ad is promoting an event or webinar, consider bidding higher in the last few days or hours leading up to the event. This will maximize your chances of visibility.
Revolve your ads and use alternating content, to ensure your message is seen and does not grow stale.
Consider hosting a giveaway or draw to encourage event enrolments.
To allow ample time for registration, run your ad campaign at least 4-6 weeks in advance of the date for in-person events and a few weeks in advance for webinars.
As the event approaches, edit the language in your ads to increase the urgency. For example, you might try the copy "Only 2 hours left to sign up for today's event. Don't miss out!"
Getting started with LinkedIn advertising can be an effective way for technology companies to reach tech and business audiences alike. Whether you are interested in setting up Sponsored Updates, Text Ads, Sponsored InMails or any other form of LinkedIn advertising, be sure to: perform an assessment to confirm that this marketing tactic best suits your business goals, strategically choose your target parameters, and don't be shy to A/B Test to make the greatest impact with your advertising.
GamePlan Marketing is a Full-Service Creative & Digital Agency located in the Oakville, Greater Toronto Area in Canada. We Specialize in Digital Marketing for B2B Technology Companies.
Want to get Started with Advertising on LinkedIn?