IT professionals are enlightened, sophisticated, and critical buyers. If they've given you the green light to connect with them via email during their purchase decision, you're off to a great start! Your next challenge is to build an email newsletter campaign that delivers real value to your audience and successfully drives engagement.
Table of Contents:
Glossary of Email Marketing Key Metrics
Tracking the metrics for your email marketing engagement provides you with valuable insights into how you are meeting your campaign goals. A 2019 analysis completed by Campaign Monitor reports that email marketing campaigns in the IT/Tech industries achieve similar results to the average email benchmarks for all industries for open rate, click-through rate, and click-to-open rate.
| | | | | | |
| --- | --- | --- | --- | --- | --- |
| | Open Rate | Click- Through Rate | Click-to-Open Rate | Unsubscribe Rate | Bounce Rate |
| Average | 17.80% | 2.60% | 14.30% | 0.10% | 0.70% |
| IT / Tech Software Services | 17.60% | 2.50% | 14.30% | 0.20% | 0.90% |
Where the IT/Tech industries differ substantially from the average email marketing benchmarks, are with their unsubscribe and bounce rates. The IT/Tech industries experience double the average unsubscribe rate and a bounce rate that is 29% higher than the average.
Keeping these key metrics in mind, we've put together a list of 10 tips to help you build a successful email newsletter program for your audience of IT professionals.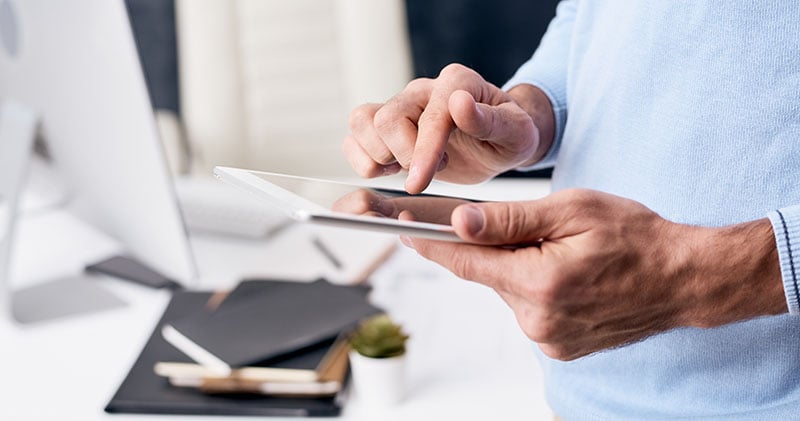 Start with a healthy, up-to-date list


---




Examine your list of target email addresses to ensure they are up-to-date and the right contacts. Starting with a healthy list means that you have a better chance of getting your emails delivered and limiting your unsubscribe and bounce rates. A smaller list of quality prospects will yield better results than a larger list of unqualified leads. Use a double-opt-in or ask to be whitelisted to ensure you are only sending emails to people who want to hear from you.

Segment your list in order to create tailored content


---




Segment your leads by demographic information or buyer persona in order to create personalized content that is tailored directly to your leads' interests. According to HubSpot, "customer segmentation helps you boost conversions, reach your audience through cross-team (marketing, sales, service, product, etc.) efforts, and communicate more effectively with customers to meet their specific needs." Having a targeted, segmented list allows you to send the most relevant content to your leads, thereby increasing your open and click-through rates and decreasing your unsubscribe rates.

Select a high quality email service provider (ESP)


---




Choose a credible email service provider (ESP) that only allows users to send solicited emails and bans spammers from their platforms. A high quality ESP will also help you authenticate or verify your email-sending domain, which tells your email recipients that you are who you claim to be and you aren't spamming their users. If you are a marketer in Canada, it is particularly important to ensure you are following the rules outlined in Canada's Anti-Spam Legislation (CASL). Read more about these tips in our blog "Staying out of the Spam Folder."

Develop valuable content for your target segment


---




Create actionable and valuable content for your target segment to reduce your unsubscribe rates. In addition to wanting industry and job function related content, 90% of IT buyers are specifically looking for detailed technical specs - although only 51% of tech marketers include these in their content (Spiceworks). Spec sheets help IT buyers understand whether or not your solution is capable of handling their business' current and future needs, which is essential to making a purchase decision. Spiceworks reports that pricing information is another key element that IT buyers want to see that is also missing from technology content. As pricing is also imperative to the purchase process, you may consider adding these details where possible to improve the usefulness of your content to IT buyers.

Use language that IT professionals want to read


---




Write for your target audience, not for a general audience. IT professionals are used to reading and writing highly technical documentation, so don't be afraid to highlight your expertise and knowledge by writing your content using the appropriate technical vocabulary and language. TechnologyAdvice suggests that by 'speaking their language' and providing useful content, you can build brand trust and increase the likelihood that your IT audience will want to continue receiving and reading your content.

Create subject lines that are strong and reflect your content


---




Give your audience a reason to open and read your email by creating subject lines that resonate with them and accurately reflect your content. As informed, analytical buyers, IT professionals often connect well with data-driven, factual subject lines. Keep it concise and avoid meaningless buzzwords and phrases that sound too "sales-y." It's a good idea to wait until after you've written the body of your email before tackling the subject line. Make sure your subject line accurately reflects your content to minimize reader disappointment and unsubscribe rates.

Write intriguing pre-header text that supports your subject line


---




Elaborate on your strong subject line with compelling and meaningful pre-header text. A pre-header is the text that appears after the subject line when an email is viewed in the inbox. Its main role is to facilitate getting your email opened by providing the reader with a quick summary of the content of your email. Your pre-header text should follow the same guidelines as your subject line, and should be between 40-50 characters to ensure you can see it in full on most devices.

Include value-added, impactful CTAs


---




Add benefit-oriented CTAs (Call-to-Actions) to help drive click-through rates and continue the interaction with your lead. As IT decision makers conduct their initial research, CTAs that may be motivating include access to exclusive content such as product demo videos/webinars, product trials, white papers, or third party reviews of your products/services. Use ungated content vs. gated content, as IT buyers prefer direct access to information as opposed to needing to complete a form in order to retrieve it.

Conduct A/B testing for each email marketing element


---




Split test each of the elements in your email to optimize open and click-through rates. Testing can be done to confirm the best performing subject line, pre-header text, content (i.e. CTAs, design, article length), and sender details (i.e. "from" name). Additional testing can also be completed to determine the best day of the week to send your specific email. Campaign Monitor reports that on average for the IT / Tech industries, the days with the highest metrics are as follows: Tuesdays for open rates; Tuesdays and Fridays for click-through rates, and Fridays for click-to-open rates. Unsubscribe rates are the same for each day of the week.

Automate your emails to help build long-term subscriber loyalty


---




Scale your email newsletter program using automation. Automated email marketing allows you to send emails automatically, based on a schedule or defined trigger. With B2B buyers going as far as 70% through the decision making process before speaking to a sales rep, automation becomes increasingly important to maintaining a dependable flow of valuable, relevant content to your leads. Consistently providing your leads with the right content and the answers they require helps to build subscriber loyalty and also long-term brand engagement.
Glossary of Email Marketing Key Metrics:
Open rate: The percentage of the number of email recipients who open an email out of the total number of emails delivered. The open rate is a good comparative metric, comparing your open rates from one week to the next.
Click-through rate: The percentage of email recipients who click on a link or image within your email out of the total emails delivered (not just those emails that were opened). The click-through rate gives you insight into the effectiveness of your email content, as email recipients convert from email and visit your website to learn more about your company or offer. It is a good way to gauge your audience's interest in your content over time, as hopefully your email open rate increases.
Click-to-open rate: The percentage of email viewers (those that open your email) who click on a link or image within your email. The click-to-open rate is considered a measure of the immediate response rate of your email, and gives you a better gauge of how the email design and messaging resonates with your audience.
Bounce rate: The percentage of total emails you sent that couldn't be successfully delivered. Bounced emails could be the result of invalid, closed, or non-existent email addresses. It could be due to server or spam issues.
Unsubscribe rate: The percentage of people who opt out of getting any more emails from you.
GamePlan Marketing is a Full-Service Creative & Digital Agency located in the Oakville, Greater Toronto Area in Canada. We Specialize in Digital Marketing for B2B Technology Companies.
Need some help with your Email Marketing?