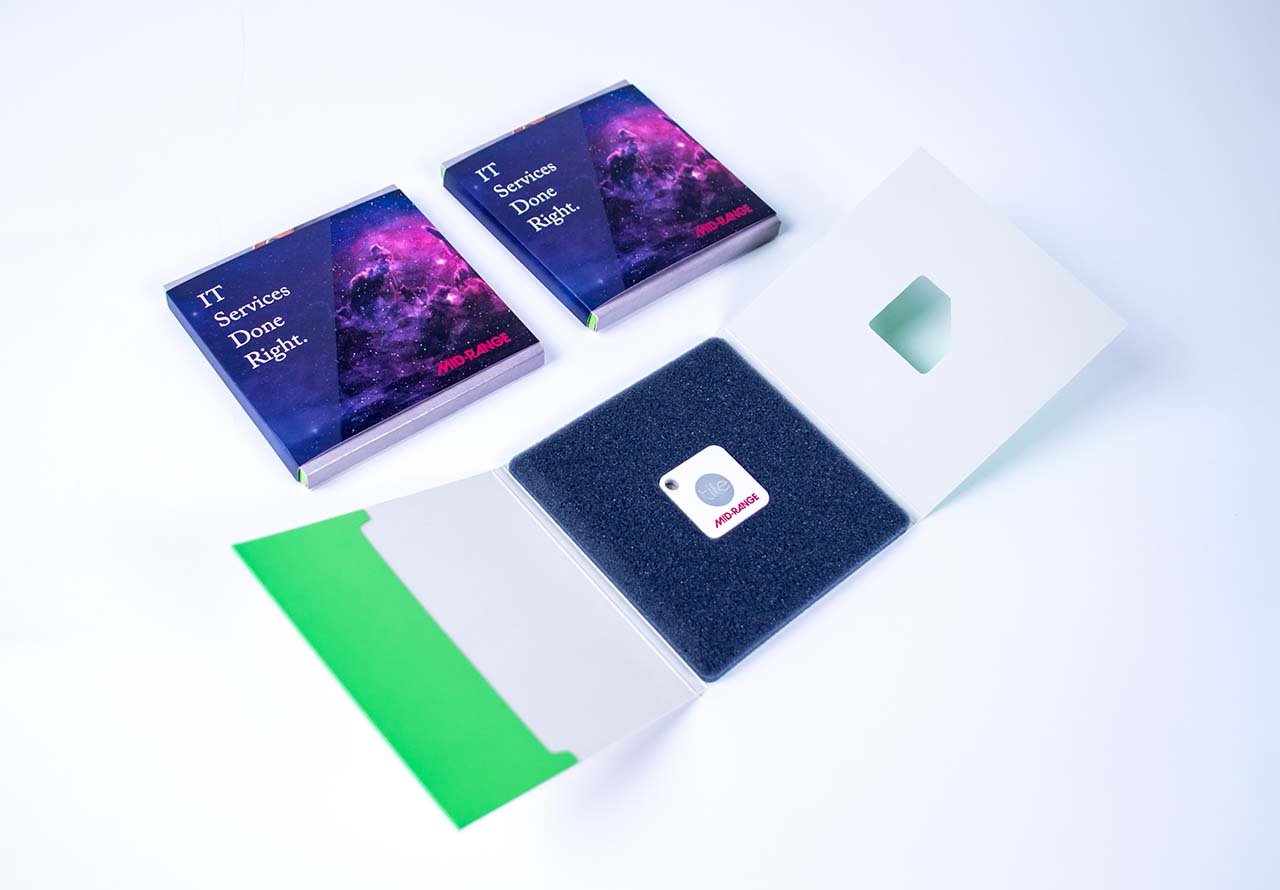 For most businesses, landing a key client can be a substantial financial windfall. The value of seeking contracts with those accounts on your wish list is obvious, but the B2B sales cycle for most account-based marketers is a long and arduous journey. What's more, it can seem almost impossible to get in front of the right decision maker to make your pitch. One way to break through the clutter and improve your account based marketing (ABM) efforts is to run an effective Executive Door Opener marketing campaign (or EDO for short). Today we'll show you how to get your next EDO campaign off the ground.
What is an Executive Door Opener?
What is an EDO you ask? Executive Door Openers are well designed, 3-dimensional packages that are typically sent to senior level decision makers by courier or mail. In most cases, a pre-existing relationship does not exist between the sender and recipient. The idea is to break through the clutter with a creative, eye catching package that contains a "teaser gift" along with an invitation to receive the complementary "thank you gift" in exchange for a meeting or phone call. An example of a teaser gift might be an Apple gift card, which can be paired with an Apple TV as the thank you gift (see examples below). When these personalized campaigns are executed properly, they can open the door a crack – perhaps enough for a good salesperson to make contact and establish a relationship where none existed before.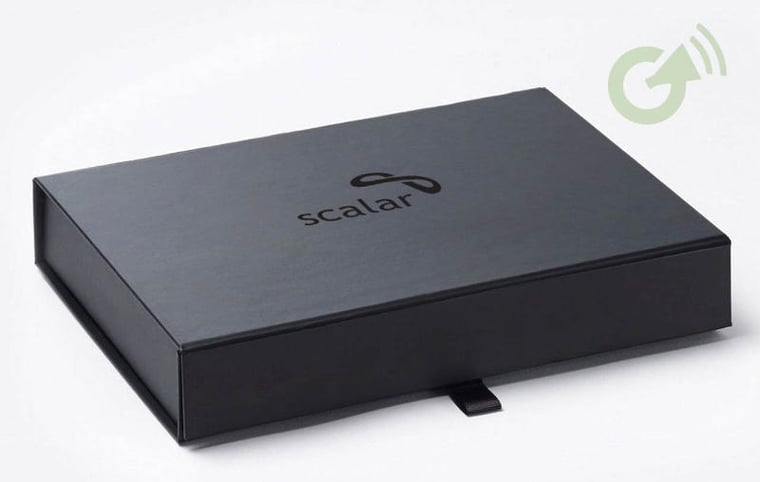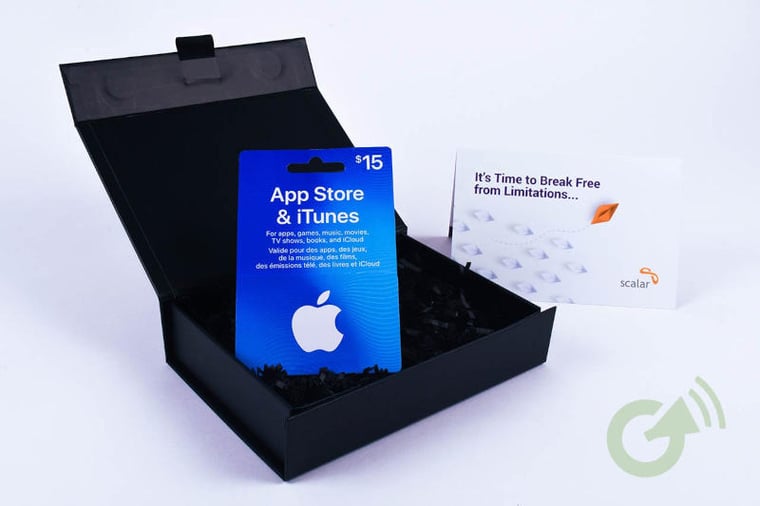 So where do we start?
Targeted Account List Building & Sales Intelligence Research Tools
Any account based marketing strategy begins with the preparation of a list of potential clients. Who are the companies and people you would like to work with, that would benefit from your product or service? If you don't already have a list of potential new clients, start your research using these tools:
LinkedIn Sales Navigator is a phenomenal tool for targeting the right buyers and uncovering valuable insights about your prospects. Access to Sales Navigator does require a paid monthly subscription, however, it is a worthwhile investment for many companies.
Technographic data will take you a few steps further, providing a clearer view into the hardware and software technologies companies use to run their business. By knowing the technology products installed at your targeted accounts, you can be more precise in your targeting and outreach, leading to faster conversion and close rates. This intelligence does not come cheap though. Organizations such as HG Data and DiscoverOrg have solid offerings in this space.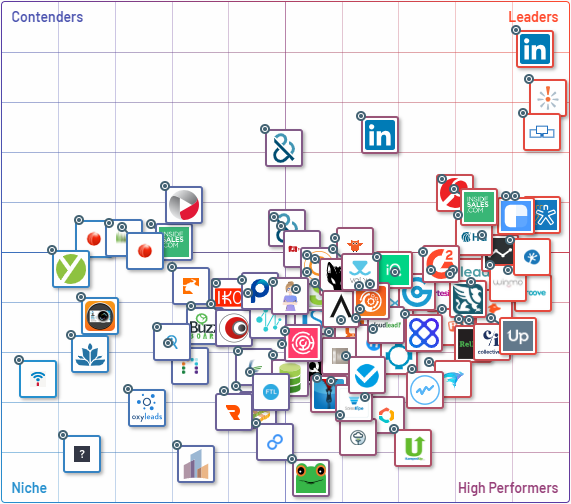 G2Crowd Best Sales Intelligence Software
Manual list building tactics can be employed to build a very targeted list. Ask your marketing agency to assist you in building a viable list of prospects. Agencies often have trusted (reputable) list brokers they rely on as well as the resources to research and validate ideal contacts for your EDO campaign.
Account Based Marketing List Building
One important tip to keep in mind when building your target account list is that Decision Maker titles will vary drastically from organization to organization, and this is especially the case in large companies where people can have titles as far-reaching as "Chief Transformation Officer." Here are some general rules to help you make an educated guess based on company size:
0-10 employees: More often than not, the decision maker is the Founder, Owner, or President / CEO.
11-50 employees: Once a company reaches this size, you will find VPs with buying power and Manager-level employees with decision making ability or in strong influencer roles.
51-1,000 employees: At this size, look for specialized roles, such as IT Manager, Director of IT, VP of IT, CTO, etc.
More than 1,000 employees: When companies reach over 1,000 employees, roles tend to become quite specialized, i.e. Disaster Recovery Specialist; Data Center Manager, VP IT Infrastructure, Director of Analytics, CIO, CTO, CSO etc.
Figure Out Your Hook: Strategic Teaser Gifts to Support your ABM Plan
It sounds crazy, but a lot of effort goes into figuring out the perfect gifting strategy for these ABM campaigns. Many technology vendors (most large companies for that matter) have strict gifting policies and spending limits. If you are funding your EDO campaign through Market Development Funds (MDF) or Co-Op dollars, ensure you check vendor policies. On the flip side, many companies on the receiving end of these offers are not able to accept gifts. While this marketing tactic works well for many verticals, steer clear of government accounts and highly regulated industries.
Get your team together and brainstorm gift ideas. It can be a fun process (and it can get silly pretty quickly!). Some things to keep in mind as you conduct your brainstorm session:
Gift Size: Select a gift that can easily be shipped. Remember, the heavier it is, the more expensive and onerous the shipping process will be.
Branding: Stay away from plastering your logo all over the gift, as this comes across as a self-serving and insincere gift.
The Hot Ticket: This is a tough one. Conduct research and attempt to tap into what is desirable right now (eg. S'well bottles were a big hit in 2017 and early 2018. What is trending now?). Think about your target persona – is your audience made up primarily of males, females, or a combination of both? Think about the season your campaign is launching and what might appeal at that given point in time.
Effective Executive Door Opener Creative
What does it take to make an positive impact, and give your recipients that WOW factor when they open their package? For starters, well designed packaging and creative that speaks clearly to your audience is a must. No detail is too small when it comes to making a great first impression.
Tie the theme of your gift item to the campaign headline and creative:
Develop customized packaging to show off your gift in the best possible light:
Personalize Your ABM Message
Personalize your outreach. All of your research and effort can be wasted if you don't make a personal appeal. In today's digital buying market, "consider that only 1% of cold calls actually result in meetings. Or that a staggering 90% of B2B decision makers don't respond to cold sales outreach."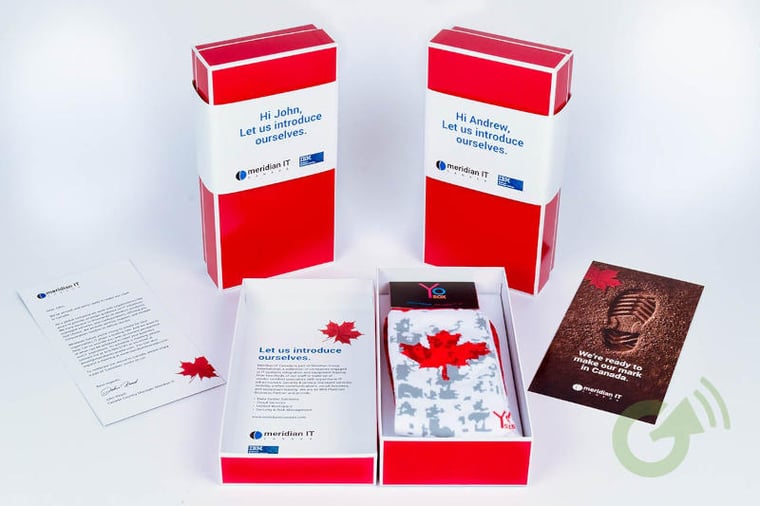 Follow up and follow through
Follow-up and Nurturing
There is nothing worse than expending the time and energy to create your EDO masterpiece, only to fall down on the follow-up. These campaigns should have a well-defined approach to follow-up and nurturing. We advise clients to have a multi-step procedure in place, such as reaching out to prospects via LinkedIn InMail, email, by phone, or a combination of approaches. Your executive door opener outreach can even be the beginnings of a larger Account-Based Marketing strategy.
When it comes to telemarketing, your team can choose from a few different approaches. You can brief an inside sales rep to conduct the follow up calls, or you might prefer to have an outsourced telemarketing team place phone calls on your sales rep's behalf. The key here is to ensure your process is nailed down prior to launching the EDO, the script is developed and your sales rep understands the role they will play in the process.
Booking Meetings, Gift Delivery & Meeting Time
One of the most appealing things about Executive Door Opener campaigns, is the fact that your sales rep has been set up to hand deliver the "thank you gift" to the recipient during an in-person meeting. Use this time wisely. Make sure your reps are prepared to take these meetings and that they bring in the right resources to support the interaction.
This is your chance to put your best foot forward and that may mean bringing in support from additional resources within the company or outside vendors. You may even choose to position the meeting as a "discovery session" and run through a consultative analysis with the prospect. Or you may wish to treat the get together as a more casual meet and greet. There are no right or wrong answers here, but the key is to be prepared and not treat it as an afterthought.
These tips are the heart of what makes EDO marketing campaigns successful. We'd love to hear from you if you are interested in learning more and viewing our Executive Door Opener portfolio. Our in-house team of experts provide turnkey EDO development and execution services:
We research and source EDO themes and gifts.
We design, build and print your bulky personalized mailer.
We build and authenticate lists, validating each decision maker.
We take care of shipping out your custom teaser gifts.
We'll even write all of your content, from personalized letters to call scripts.
GamePlan Marketing is a Full-Service Creative & Digital Agency located in the Oakville, Greater Toronto Area in Canada. We Specialize in Digital Marketing for B2B Technology Companies.
Interested in finding out if EDOs are a fit for your Organization?