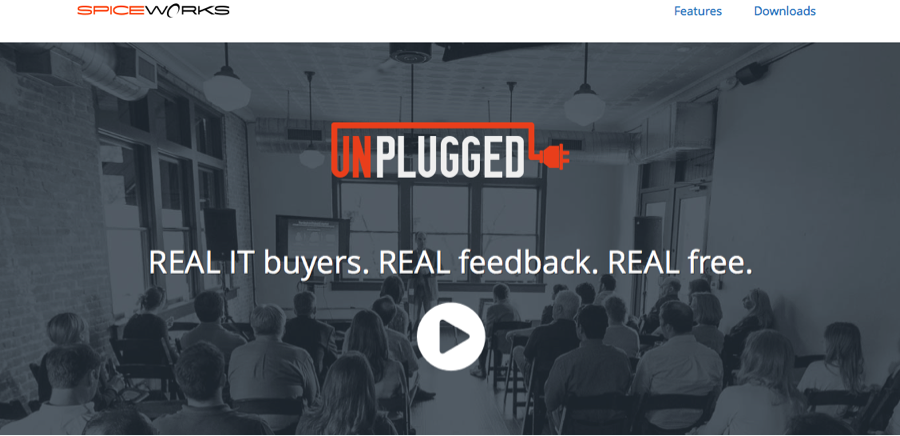 If you're wondering how to successfully market your technology products to an IT decision maker, then look no further. Spicework's Unplugged series brings together a panel of IT buyers who provide direct feedback and candid input on the marketing tactics of companies selling them products and services.Spiceworks is a social network and app that helps tech vendors reach IT professionals as they manage their networks and research the products they'll spend over $600 billion on each year according to Spiceworks.
Our team had the opportunity to attend a recent Spiceworks Unplugged event in Toronto and the event was everything Spiceworks said it would be. We heard from a panel of IT professionals that included speakers from McMaster University, Toronto Terminal Railyways and TORLY's, a mid-sized building materials company. The IT panel spoke about the kind of marketing that grabs their attention, and the messaging that truly resonates with them. Here's a summary of their direct feedback.
What is your biggest IT challenge?
Doing as much as I can with as little money as possible
Limited IT staff, resources and time
Modernizing the infrastructure
What do you expect from tech marketing?
Be human
Don't bash competitor products
Tell me how I can integrate your product into my infrastructure
Tell me how to maintain your product – I need systems that I can install and forget about
Tell me how you are going to save me time
Top technology buzzwords to avoid?
Fail Proof – nothing is fail proof!
Cloud – so over used and not understood; it is applied to everything; what does the cloud really mean? Makes it seem magical, may impress non-IT people, but not us
We have a saying: "If you put it into the cloud, what happens if it rains?"
ROI calculators are just noise, and are not accurate enough to be considered proof. I would rather hear straight talk: I have a problem; I need your experts to solve my problem within a reasonable budget. Demonstrating a "proof of concept" is preferable over ROI.
So let's talk about Proof of Concept…
Length: a 14 day trial is not sufficient, and I need a longer demo time
Would you pay for a POC? (There was a lot of hemming and hawing on this one…sounds like it most cases they will not.)
What content do you value when researching IT solutions?
Live Webinars – I like seeing live demos in action
I go through phases in my research and look at different content as I progress:
I start with white papers – hate gated pages but I have a special email address I use for such pages
Then I move on to videos which take me deeper into the solution
Only after I have shortlisted you, will I be willing to speak with a salesperson.
How do you feel about web forms?
Don't like them because a form means a phone call from sales that I have to avoid, and that wastes my time
Put the bare minimum on a gated page: "I feel like gated forms are just a fish hook for lead generation companies to acquire our phone information, so that their tech marketers can harass us"
It would be better to put in "Optional Contact Info"- i.e. do you want to be contacted by a sales rep?
And by the way, the person filling out forms is usually not the ultimate IT decision maker.
What would encourage you to fill out a form?
Free stuff! T-shirts etc. I like the word free!
Give me enough info to hook me before you ask me to fill out a form. Give me a landing page that is full of resources so I can investigate your company, and then ask me for my information. i.e. you got me to the landing page, why waste that click by not sharing valuable information with me?

Quick tip:

Anything forms with more than 7 fields will drop conversion rates by 11%
As much as 90% of research is completed before IT buyers reach out to sales contacts. Take note of this candid input about IT buyer behaviour, to craft marketing programs and solutions that can address these needs. Thanks Spiceworks for the great day!
GamePlan Marketing is a Full-Service Creative & Digital Agency located in the Oakville, Greater Toronto Area in Canada. We Specialize in Digital Marketing for B2B Technology Companies.
Need help developing a content strategy for your company?