Background
Data Integrity is one of Canada's top technology solutions providers with over 40 years of experience, working with startups through to the world's largest companies. Data Integrity provides IT solutions that integrate hardware and software from leading manufacturers with their own services and support. As a Gold IBM Business Partner, Data Integrity continues to lead the technology solutions space with innovative, evolving offerings backed by their extensive experience.
The Challenge
Generating interest with qualified IT decision makers
The marketing team was looking to expand their lead generation activities, their breadth and depth of content, and target prospects who were interested in learning more about IBM Sterling® Supply Chain offerings and IBM enabled solutions. Nick Filicetti, Marketing and Sales Support Specialist with Data Integrity adds, "Our last project involved working with IBM to bolster our Sterling Supply Chain certifications and offerings. We engaged GamePlan to produce our social media and blog content, run LinkedIn advertisements and generate leads from Content Syndication."
Our Solution
Blogging, content syndication, and social media ads
Data Integrity and GamePlan Marketing have worked together in a long and trusted relationship since 2016. Nick mentions, "I first heard of GamePlan from one of our VP's who had worked with GamePlan in the past. When I took over the marketing role, I was advised that they are the best in marketing technology for Value Added Resellers (VARs)."
For this marketing initiative, GamePlan and Data Integrity worked closely together to build a custom marketing strategy. GamePlan conducted research in the IBM PartnerWorld portal, exploring IBM Sterling campaign assets and resources that could be leveraged for Data Integrity's campaign messaging. After short-listing available materials, the team got to work writing outlines for the blogs, emails and social media posts. Once everything was approved by Data Integrity, GamePlan worked closely with Nick to manage the multi-step production and design process.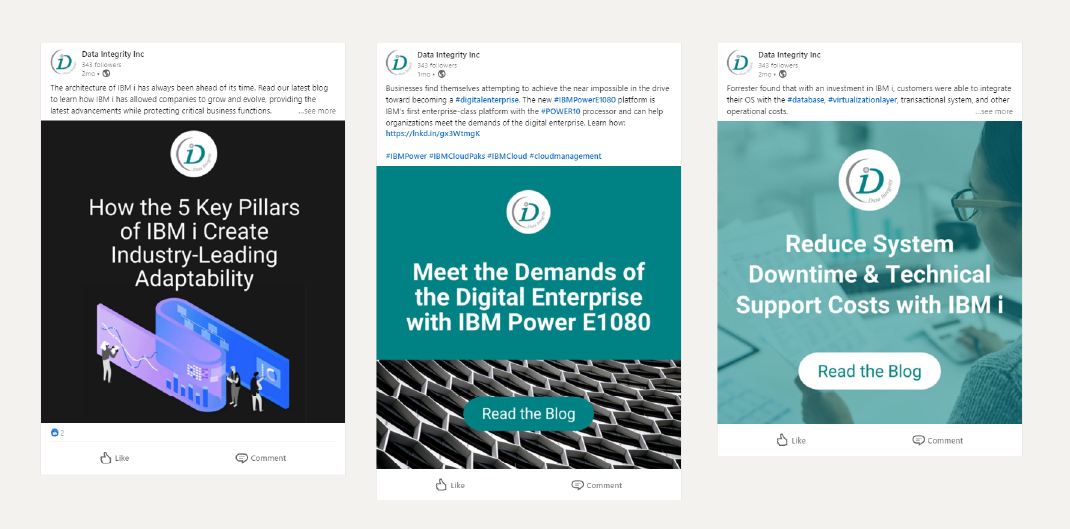 GamePlan's years of experience building marketing campaigns and content for the IT industry, coupled with the agency's comfort working with technical content, allowed for the creation of effective custom assets. Nick notes, "GamePlan have been instrumental in providing ideas and content that helps to drive parts of our marketing engine. They are a fabulous team; super responsive and extremely creative. They have a deep understanding of the challenges that VARs experience with some of the marketing partnerships we engage in through our vendors."
After content was developed, the next step was to develop a lead generation strategy. A content syndication campaign was created with parameters designed to drive top of funnel leads with target accounts identified by GamePlan and Data Integrity. Along with a robust LinkedIn advertising campaign to generate further brand awareness of Data Integrity's offerings.
Results
63 Marketing Qualified Leads (MQLs) produced, and over 373,149 social media impressions
The GamePlan team successfully delivered well-researched and compelling blog articles along with LinkedIn Ads that resonated with the IT target audience. Further, by promoting an existing white paper, eBook, and study, the content syndication campaign was successful in generating 63 top of funnel leads which are being incorporated into Data Integrity's ongoing nurture campaigns.
Nick noted that this was not the first success for Data Integrity and GamePlan, "We often get opportunities with technology vendors to co-operate on marketing initiatives that GamePlan is instrumental on. GamePlan are experienced and well equipped in producing our digital content and they offer creative marketing solutions to generate more leads and visits to our website. We had great success with content syndication and have been generating leads to follow up on."
Next Steps
What's next for Data Integrity?
Opportunities now exist to leverage the newly developed blogs and infographics on the Data Integrity website, and in future lead generation campaigns. Data Integrity can also repurpose the blog content into visually snackable bites for extended use on social media platforms. Video content or a podcast would be an amazing way to get creative and continue to leverage this well performing and compelling content. To quote Nick, "GamePlan's focus on the technology market makes them stand out because they understand our challenges and programs, so it's been very effective working with someone who gets it from the jump."
___________
Ready to discuss your lead generation strategy?